Nanothermia selects at the cellular level. A number of cell-culture experiments have shown that Nanothermia has almost no impact on healthy cells; benign cell cultures with high proliferation were found to be slightly affected. Malignant cells in cell cultures, however, are selectively destroyed by Nanothermia. (Source: Dr. G. Brunner, Klinikum Hornheide, Clinic of Münster University, Hyperthermia Symposium 2006, Cologne). The selection occurs as a result of special metabolic characteristics of malignant cells (incidentally, this can also be proven by positron emission tomography). The special feature of Nanothermia is that it promotes renewed formation of cell connections (E-cadherin and #-catenin junctions), thereby facilitating the natural celldeath process (apoptosis).
1. Illustration of individual tumor cells within the modulated
electric fi eld, showing how the electric fi eld focuses on the
tumor cells.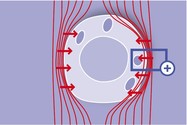 2. Illustration of the electric fi eld along the membrane of a
malignant cell. Here, the electric fi eld is beginning to affect
the biochemical processes of the cell membrane.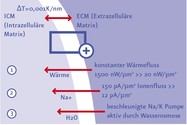 3. Detail of a malignant cell with cell membrane and intracellular and extracellular domains. The electric fi eld has
changed the membrane's potential, thereby initiating various
reactions within the intracellular and extracellular domains, such as increased intracellular sodium concentration within the cell and an effl ux of potassium.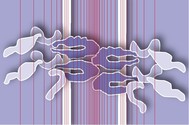 4. Detail of a malignant cell membrane. As a result of the
change in the membrane potential, previously severed
cadherins within the cell membrane reconnect, and the
the membrane's permeability and interaction between the
intracellular and extracellular domains are restored.